Can your packaging increase the number of sales your business makes?
The truth is that if you're an online business, you have to replicate the high street shopping experience as much as possible. Of course, we know that the death of retail could be round the corner, but that is largely down to ease and not how shopping makes us feel.
It may be an age ago, or maybe it was last week, but we need you to think about the last time you purchased something (not the weekly food) in a shop. How did it make you feel? Did you feel special?
Well, we did, that's for sure, as too do the vast majority of shoppers. Online shopping offers businesses a different kind of touchpoint, and although the interaction between product and consumer comes with its barriers, they can be used to your advantage.
For example, the wait time between the purchase and delivery is an exciting period for the consumer; pent-up anticipation should be an opportunity for your business. But how can you do it? Well, the answer is excellent packaging.
In this blog, we are talking about how your packaging can increase sales for your business. If you're still using those plain brown boxes, your business is probably being forgotten about.
Creating brand recognition through packaging
Brand recognition is one of those niche marketing terminologies that should only be overlooked at a businesses peril. We understand that sector-specific jargon can become heavy and tiresome. But if you put one term at the heart of your marketing efforts, it should be brand recognition.
Time and time again, we see companies push vast sums of money into marketing and branding. Yet, those same companies are still looking to cut corners when it comes to the delivery of their products. Do you think Apple would ever send a brand new iPhone in a standard plastic carrier bag? They understand the intrinsic value of their packaging as a company.
Of course, there are obvious reasons why you shouldn't use budget options when it comes to packaging and shipping. No one wants a product to arrive broken or spoiled; if this is frequently happening, it will have a detrimental effect on your brand. So firstly, make sure you get your product to the consumer in perfect working order.
Once you've guaranteed the safe passage of your product, it's time to focus on that invaluable opening experience. That warming feeling as you rip through your Christmas gifts to reveal what was inside. It's a joyous and unforgettable experience.
Well, online shopping has recreated that experience, potentially every day, depending on how much you buy, albeit with a little less of the surprise element. So, shouldn't the experience of opening your products feel the same way?
Brand awareness
Your packaging can reinforce lots of your business strategy without you even knowing it! For example, when you order something from Selfridges, you don't have the chandeliers and unrivalled customer service you get in the store, so how can they still champion their brand? Well, they do it by using unique branding, colours and fonts to reinforce their famous in-store Selfridges branding.
With their packaging matching what you expect from a trip to their high street shop, they raise brand awareness and brand recognition in one fell swoop. Does their packaging and shopping experience increase online sales for Selfridges? Of course, it does because it reinforces their brand recognition and the feeling you get when shopping in their stores.
We suggest thinking about all of your favourite brands; you'll find that they all follow a similar approach to packaging and the online shopping experience.
Packaging at Create8
At Create8, we understand the integral importance of packaging design, and we love building package designs that help our clients increase sales across the board. If you are looking for some inspiration, why not follow the link below to check out some of our recent projects? From the wonderfully designed to those focused on functionality, there is a Create8 packaging design for everyone.


Safety First
When it comes to your branding strategy, it's understandable that you may get carried away with the design elements of your packaging. Design work is the most fun you can have with your clothes on, after all! However, when it comes to packaging, we always suggest treading carefully before pushing the boundaries too much. The functionality and safety of your packaging is important as you're getting started in business.
So, someone has ordered one of your bespoke jams; they look brilliant and taste amazing, but you've elected to send them out in a cardboard box with little to no padding. What's the worst that can happen? Well, if they fail to make it to our front door safely, all of your product development and branding goes out of the window.
So, before you go design mad, think about safety and practicality first. Ensure that your product ends up in the customer's hands in the same condition as if they bought it in-store. In order to do this, you must think about the solidity of the packaging as well as how well the packaging will keep the product. You should be nurturing the relationship you have with your customer, and for every product that arrives in less than satisfactory condition, you risk losing that consumer altogether.
Standing out
So, we've addressed the two key packaging factors that will affect your customer's perception and hopefully increase your sales.
Here is our list of the best ways to make your packaging stand out and increase your sales through packaging design.
Stickers & Labels – Whether you want to create something memorable, explain your product or generate some extra brand awareness, labels and stickers could be the answer.
Streetwear super-brand Supreme has long been distributing custom stickers with all their online orders. Some stickers are so rare that they have a resell value of their own, cool right? Fans of the brand also customise everything from skateboards to Playstations with their stickers, spreading the brand much further than initially imagined. A custom label can also explain how best to use your product or to thank your customer for their order. Think outside and inside of the box.
Custom padding – Whilst you'll probably get caught up on the exterior design of your packaging, it's the interior that creates that unforgettable opening experience when it comes to padding your box out with tissue paper or padding. Why not go the extra mile and have your paper covered in your logo or branding. Make people struggle to forget you.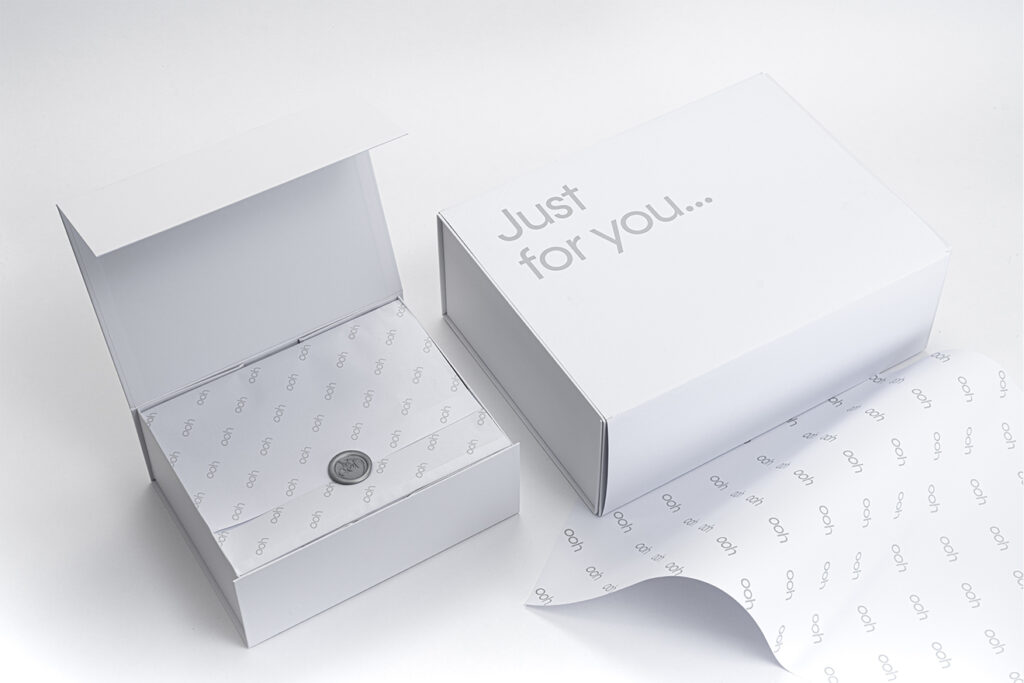 Mailers and bags – When we talk about custom mailers, we immediately think of Pretty Little Thing. Their candy pink mailers have taken over the online shopping sector and are so popular that they are unmissable when in the hands of your local courier, that's brand power. If you are shipping less sensitive products, think about mailers and how yours would stand up next to all of that unforgettable pink packaging.
Custom Boxes – Last but obviously not least is the customisable box option. In recent years, the popularity of doing something entirely different with your boxes has increased significantly.
Much to our delight, the days of the boring cardboard box is gone, and there are some brilliant examples of exceptional design out there. Depending on the budget you are willing to part ways with, the possibilities of your box are pretty much endless. Whether you are aiming for the luxury approach and choose to implement a magnetic locking box, or if you're going to paint your packaging in brand colours with your logo emblazoned on the front. You can do exactly as you please. Think big, think different and create those 'WOW' moments with your packaging.
Eco friendly
As a final consideration, you could be thinking about how eco-friendly your packaging is and what effect shopping with your business has on the environment. Recent studies have suggested that as much as 65% of the population will elect to shop with a greener business over one which doesn't value its effect on the environment.

When it comes to your eCommerce business, your packaging is often the closest you ever get to your beloved customers, so why would you cut any corners? Throwing money at marketing a product that fails to create an unforgettable moment once it arrives is ultimately a waste of money.
So, here's the choice you have, keep sending out your boring plain packaging in an attempt to make a quick buck, or reach out to us today and let's work on something truly memorable. That way, your business can nurture the relationships it has built and have a lasting impact on your customers' lives.
Take a look at some more of our blogs for helpful tips, tricks and advice: