This Manchester retailer – a progressive gaze on premium fashion – was just starting up when they approached us. The team had already done deep digging on what they stand for. From caps and hoodies to joggers, shorts and tees, HEX is a label built on sustainable cool.
HEX had to make its ambitions real, though, with clear brand directives, a website, product designs and packaging. We were eager to map everything out, starting at the basics and working our way up.
Initial talks broke right into HEX's mission – organic cotton clothes from a select group of manufacturers, and smaller details weaving in from local hands. Too many bells and whistles would spoil the purity of what they were trying to do. A better choice? Minimalism.
Quickly, we composed a moodboard of images and scenes that would bring the earth into play. The HEX logo became a symbol of standing tall, reaching higher, an alchemy of luxury fashion and planet-conscious practices.
We kept a bare aesthetic to every iteration of the website, with interactive photos unencumbered by much text. Storytelling was saved for the About page: a quick, four-paragraph rundown of the brand's beliefs. Elsewhere, we coded and tested a store menu entering from the left of the screen. All of this was held together by a black-and-white theme – smart, sophisticated and unpretentious.
While we optimised the site for mobile, we drew packaging proposals. The design took shape as a black box with the Manchester bee on one side, and the brand name on the front, emphasising local connections.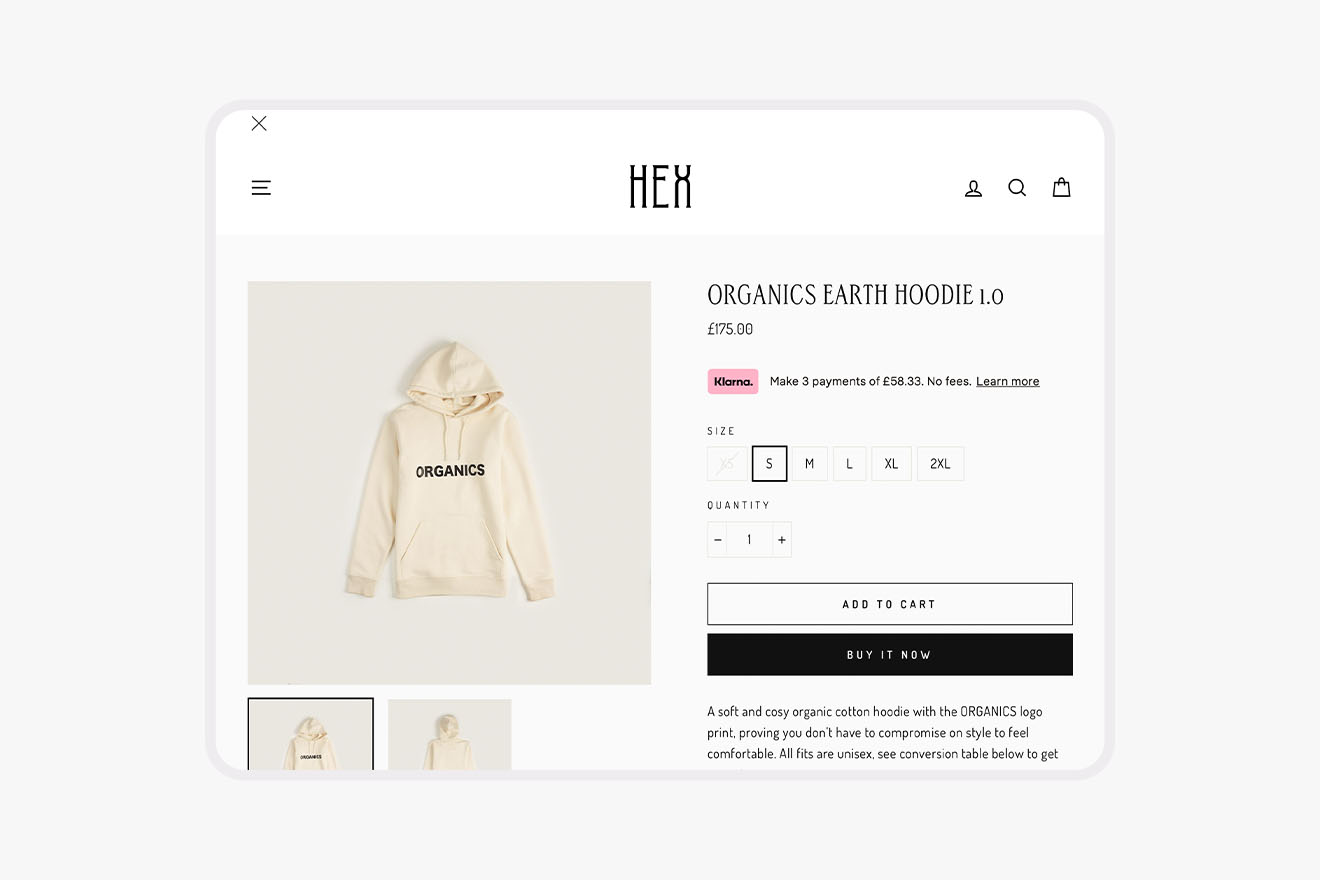 HEX was thoroughly impressed by our work. Thanks to collaboration across Create 8, you'll see a slick, no-nonsense identity online and in the mail. A homepage video cuts quickly through clothing on a cliff's edge – an apt metaphor for where the brand sees itself, pushing into new all-natural territory.
The store has pairing recommendations, piece to piece, while packages contain a message to 'feel the buzz, join the hive', stoking loyalty. Hundreds of fresh customers are turning this curiosity into a habit.
View Website