Could you be missing vital pages from your WordPress website without even knowing?
When it comes to building the perfect WordPress website, it's in the imperfection of those who make theirs first that you can learn the best lessons. Of course, creating something from scratch can be incredibly rewarding. Being the first in a niche sector can be revolutionary. But the truth of the matter is that it's unlikely you'll make all the correct decisions on your own. You have to learn on the job. Or let someone who has done the job plenty of times before sharing their knowledge with you.
That's the point where we slowly emerge from the shadows. Think Halloween style, but with a laptop and a smile, not an instrument of violence. In the world of website design, we've walked this road a few times before, we are prepared.
The true beauty of web development is that no two journeys are the same, the road is extensively different, but the destination is almost always the same…the perfect WordPress website.
As more of us flock online to spend our hard-earned cash, if your business doesn't have a brilliant online shop front, you could be missing out on tons of potential sales. Whether it's the potential clients just passing or those who have come searching for your goodness. Every missed opportunity could cost your business.
In this blog, we will talk about all the pages essential to building an unforgettable website. How and why certain pages bring you value and all the ways you can stay ahead of the curve.
Let's get this show on the road.
Welcome home
It goes without saying that your homepage is integral to the success of your WordPress website. In many cases, it's the first thing people see, and it's the difference between them waving hello or saying goodbye.
When developing a homepage, you need to avoid thinking only about yourself. Of course, you should highlight all the brilliant things about your brand, but you need to give thought to the feelings and intentions of your customer. What do they like, what sort of greeting will drive them to stay, look around, maybe even purchase your products?
Have you ever been on the perfect first date? Well, often, within the first few moments, you'll sense a vibe for the whole evening. That's what a good homepage does. It provides instant vibes; it highlights what your business is about, the best way to get in contact with you, and what it's going to be like using your company in the long run.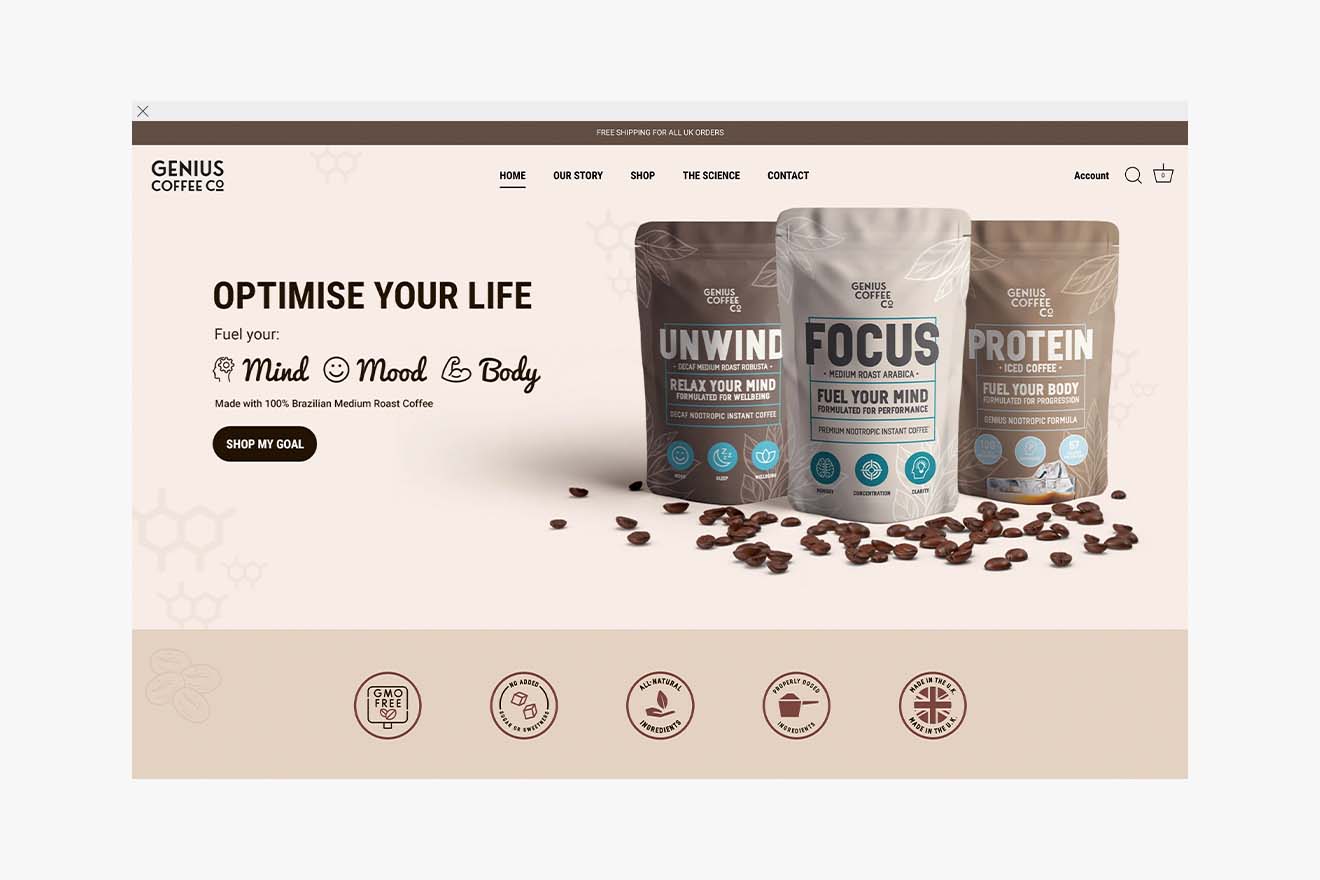 Top Tip – Think about streamlining your user journey. The easier it is to get in touch with you, the more likely people are to do it.
Tell us more!
There's nothing more appealing to a potential customer than a business whose morals align with their own. Your story is what makes you a brand rather than a run-of-the-mill business, and a company without something to say is one that the general public isn't going to buy into.
Having weathered the covid pandemic and to be sailing out of the storm on the other side unscathed is something you and your business should be proud of. Given the constantly changing surroundings of the world in the past few years, consumers want honesty. They want a brand they can believe in, and they want you…they just don't know it yet.
Top Tip – Paint a picture on your about us page, not literally (unless that's on-brand), offering your customers some backstory to your business and the passion that drives you each day. People enjoy feeling like they are buying from someone that cares; it's sales 101.
This is the part where the blogger talks about blogs and why you should be blogging whilst writing it in a blog. Something like that anyway, that was a bit tongue-twistery.
At Create8, we always find time to champion blogs on your WordPress website. The benefits of having a place to share your views are endless. There's the obvious positive of building relationships with your clients by letting them have a sneaky peek inside the workings of your brand.
There's also the benefit of being able to share some top tips, inspiration and knowledge for free with those who care about your brand. Everyone loves something for free, don't ever forget that!
However, your blog doesn't only talk to your potential customers. It also speaks to the search engines scouring your website for helpful information to share with those looking. SEO can become a powerful outlet for your business if leveraged correctly. So, take it from us, build a blog.
If you want to learn more about the importance of hosting blog posts on your WordPress website, why not read our blog about it?
What have you got to offer?
If you are a product-based commerce business, the majority of your WordPress website will likely be made up of product pages. They will highlight what you have to offer, why it's better than the competition and, of course, it will try to sell products to your traffic. However, an overly saturated product or service page is just as likely to alienate potential customers as convert them into sales.
When it comes to your offering, you should highlight the benefits of your product and explain how the customer will feel when using it. It can be off-putting if you simply present the properties without any emotion or feelings attached. Your product photography is just as vital to your pages.
Not only do you need high quality images of the products, just like the text, you should be showing customers what the product looks like within a setting. Show them your vase on a table in a living room, show the shoes on someone's shoes out on a walk, give them context for the products and help them visualise having them in their own homes.
How do I get in touch?
Contact pages are often overlooked as many deem them to lack importance in the overall scheme of web design. However, from experience, we couldn't disagree with this more. A straightforward layout with understandable, bite-sized information can lead to vastly increased conversions.
Top Tip – Keep your 'contact' page slick and easy to navigate. The easier it is to get in touch with you, the more likely they are to do it. If someone wants to get in touch with you, don't make it difficult for them.
Give the people what they want!
The importance of having brilliant landing pages should never be underestimated. When it comes to driving traffic from your digital marketing and paid ads, every client should be landing somewhere familiar.
For example, if you are selling a specific product on Facebook, don't have the link attached to that advert just leading to your home page. For every client who enters on your home page having been enticed in by a particular product, they will have to then find what they clicked on, and they might not want to try.
Make it easy, sell me something on social and build a landing page specifically for that product, offer or service, even if it means having multiple landing pages for various products. Familiarity when first landing on your site increases your website's usability and, in turn, will help drive sales.
Thank you, come again
The majority of websites aim to convert their traffic into sales. To measure the amount of success you have, you will need to have the right conversion tags in place and track the customer's entire journey. That's where thank-you pages come into play.
By attaching a thank-you page to the end of a conversation form on your WordPress website, it creates a logical end for the journey of any consumer. Having an end also means you have something to measure as a conversion. For example, once someone has made a purchase or has signed up to your website, the specific thank you page will appear and count that conversion. This also helps you assess the success of any marketing campaigns you are running, as your data will highlight the source and journey of your conversion.
Errors
Probably the most overlooked page of all is the 404 error page that pops up when someone clicks on a broken link or URL on your website. Over time, as pages decay and are lost, 404 errors will occur. However, that doesn't mean they have to be generic and lack any brand identity.
By creating a bespoke 404 error page, you can show your customers that you are aware of the problem. It also highlights a level of knowledge and control over your website, which builds user confidence, so it's a win/win, to be honest.
Top Tip – Don't do too much with this page, have a nice graphic and include your branding. Brand touchpoints are essential. If people are going to end up on a broken page, it might as well be a memorable one.

You're probably aware by now that at Create8 HQ, websites are our thing! A new web development project is something that gets us excited. Staying ahead of any new developments, add-ons, and updates is something that we do so that you don't have to.
Every job that lands in our office is treated with excitement, respect and a whole lot of TLC, so you know you're going to get a service that's second to none.
Whether it's something you've read in this blog that's caught your attention, or if you have a project and you think we'd be the perfect fit, we can't wait to hear from you
Take a look at some more of our blogs for helpful tips, tricks and advice: