It doesn't take much for us to swoon with a brew, but Genius Coffee Co. has cracked into something special. Basically – coffee for the overachievers, the creatives, or anyone after all-natural brain fuel.
For launch, they wanted to get everything right: the visuals, the seduction, and that push for continual (not to mention delicious) self improvement. The Create8 team got busy with an inspired proposition for the gourmet coffee market. . .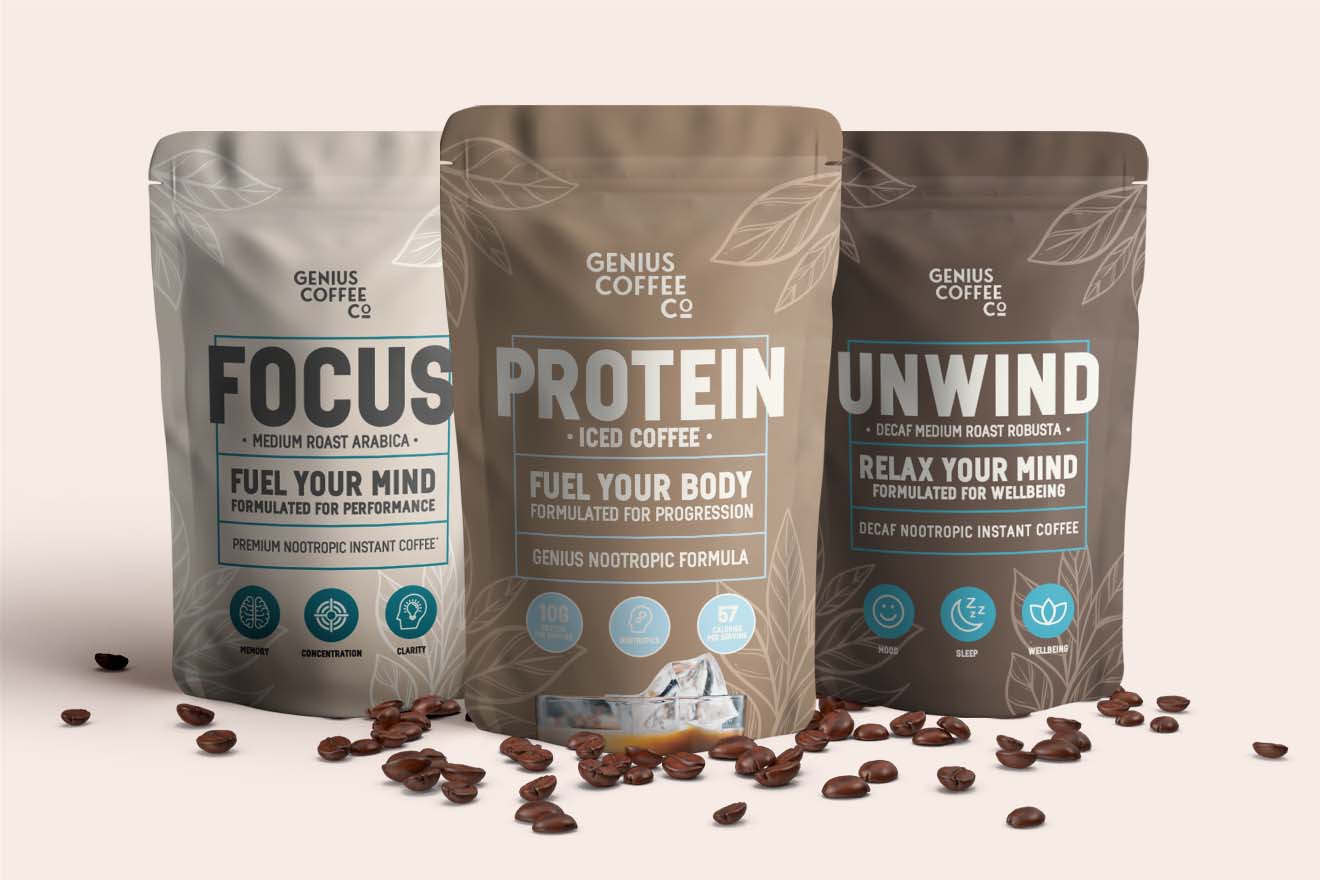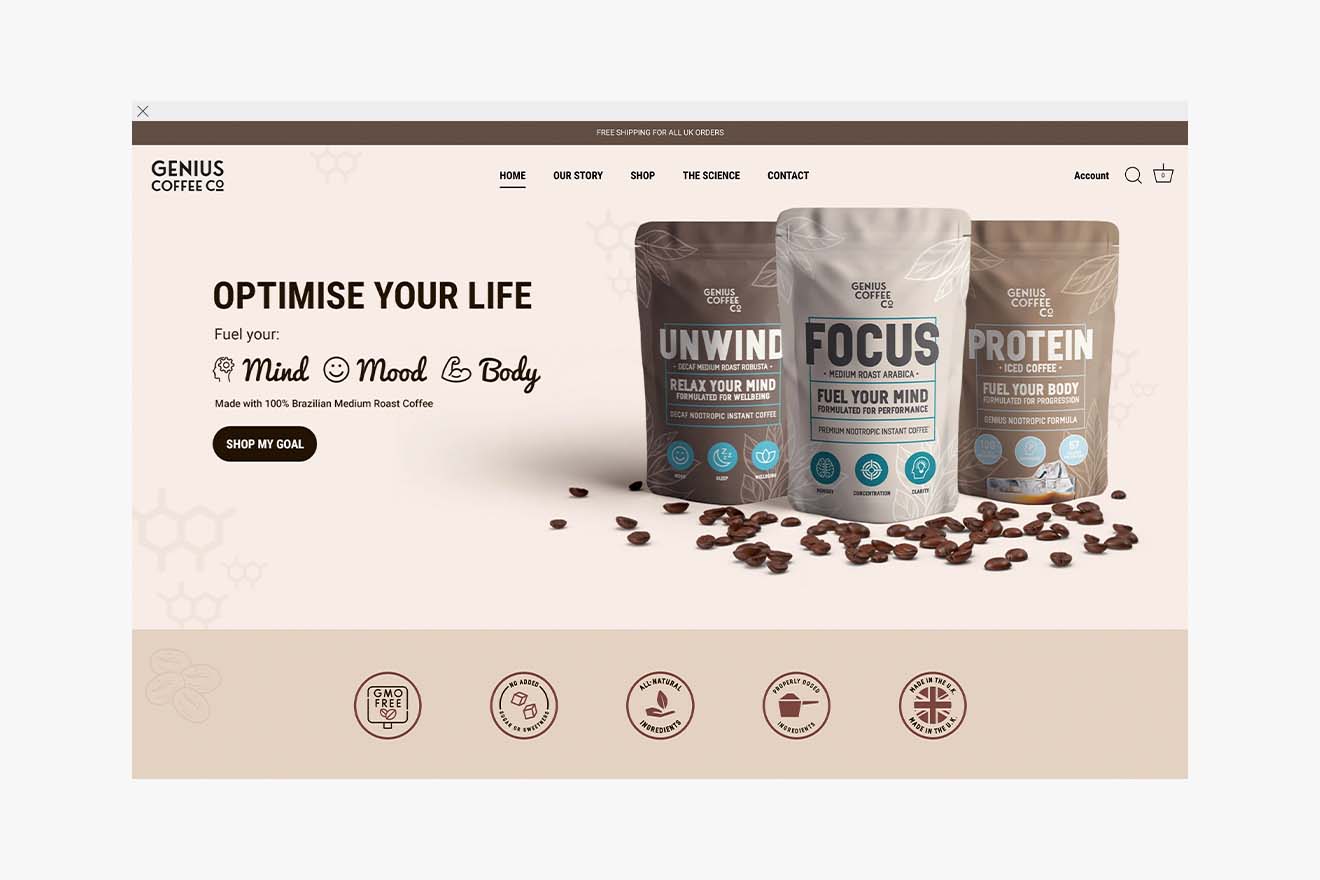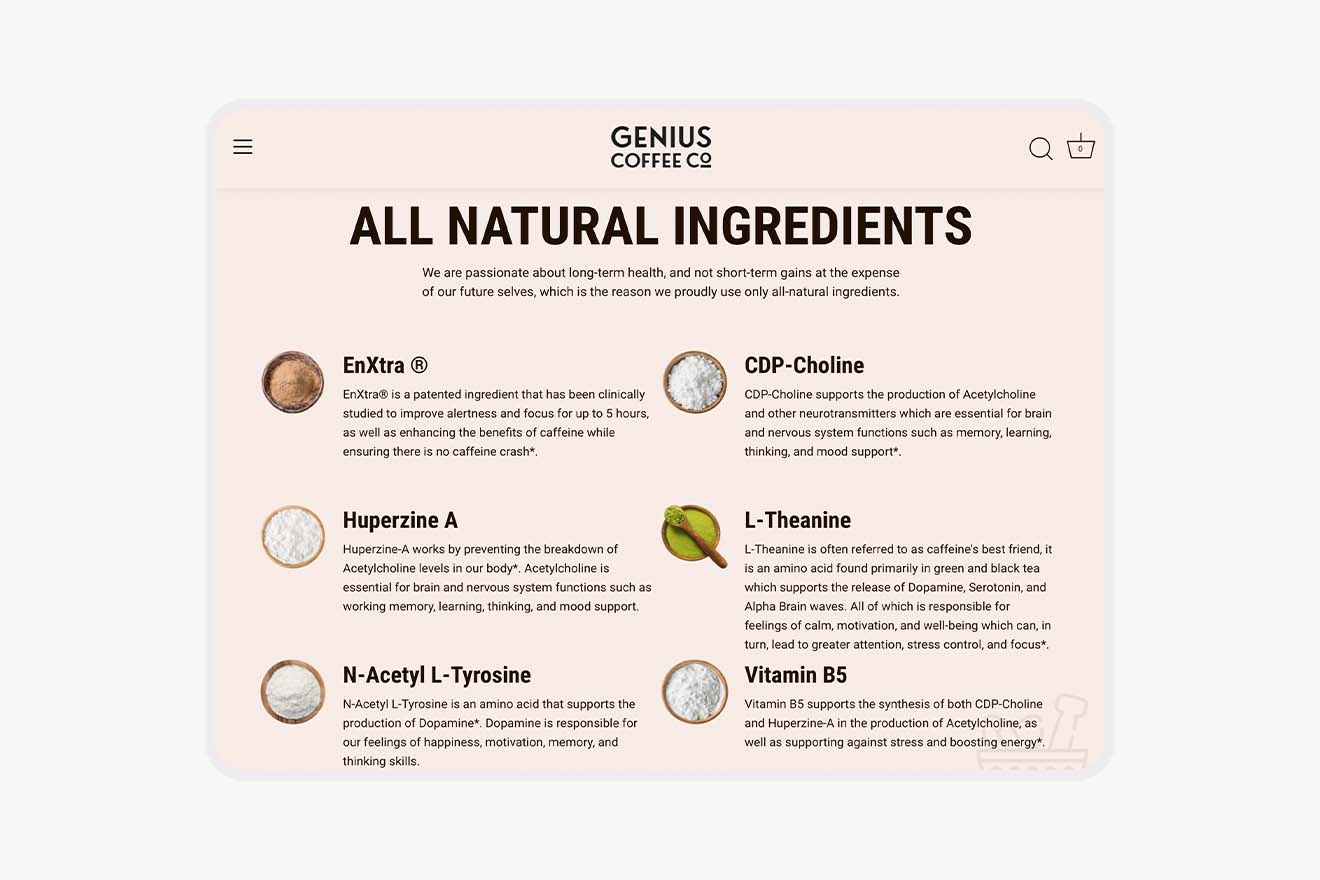 Immediately, we began to get a feel for the flavour of the brand. A workshop brought this to the boil – hand-picked supplements, long-term health advice, and a passion for whatever the customer loves to do. It was a unique combo of science and subtle inspiration. You are always refining yourself, we had to say. You are getting there faster with a cup of Genius in your hand.
On top of a solid main branding concept, we built a logo with the company's three words sliding right, slightly ahead of their predecessors. This implies change and growth. It also fits with the product's performance aspect, suggesting focus, speed and reliable motivation. The new logo could flex easily with packaging or web visuals. Additionally, we chose a relaxed, artisanal typeface.  
Then we moved onto the website. After testing several versions, we went with a light brown scheme on slices of white. Our Story and the homepage demanded large, soothing graphics that can hold someone's gaze or give certified stamps for methods and ingredients. One at a time, we added them in. 
Lastly, we looked at packaging. The science needed to be front and centre while appealing to a mass-market, social-savvy audience. Our packaging pros worked on bags for three coffees: Unwind, Focus and Protein. Finely drawn leaves accompanied these selections from each corner of the bag. They reference the coffee's production, as well as the impression of a gym or health supplement.
Genius Coffee Co. sprang onto a competitive scene with even more gusto than we bargained for. It has a clear, confident identity online, and a fantastic range of coffee pouches that leave you in no doubt about what you're getting and why it matters. 
We loved designing around caffeine and other supplements, merging two elements that don't come together very often. Plus, we had a few taste tests. We had to. Then a few more.
View Website
"I was starting my own supplement brand and chose Create8 because of the exceptionally high standards of their previous work. Having spoke with them I felt at ease from the very beginning. The team are patient, understanding and are completely on point when it comes to ideas, feedback and collaborative working. Everything we have produced has exceeded expectations and the whole team have been extremely flexible and accommodating and I cannot thank them enough. If you're looking for incredibly high standards at very reasonable prices, I can not recommend Create8 enough.
It was a big project and Create8 made it all seem so simple and easy by breaking down the process to get to the end goal. We really appreciate the hard work and time put into the project, they listened to what we wanted and exceeded our expectations.

Michael Bartley - Founder