How long should you expect to wait for your website?
As the consumer continues to spend more and more money online, your website has become more important than ever before.
Everything from the way your website looks through to the way it works has increased significantly in importance. The truth is, if your website isn't up to the job, it doesn't matter how good your product or service is; you are already decreasing the likelihood of sales from the get-go.
As a web design agency, it's fair to say we know our way around a website. Whether it's building a bespoke website where user journey is the most critical factor or helping our clients build out something special based around a WordPress theme, we've done it all. Yet, no matter how many websites we work on, there is always one question that keeps popping up. That question is why we've ended up writing this blog.
So, "how long does a website take?"
The truth is the answer to this question is down to several different factors. The subtle variances in what you want and need from your website will dictate just how long it is going to take.
So, in this blog, we're making our way through some of the most important factors behind web design. Highlighting what would be going on behind the scenes, which would increase your wait time.
So, let's discover some of the factors that dictate your website's build time.
How long is a piece of string?
We've no doubt you've probably heard your parents say at some point or another, 'how long's a piece of string?' Usually, in response to asking what time dinner will be ready.
When it comes to asking off the bat how long will a website take, this is also the best answer for you. That's because unless we've thoroughly discussed your project, mapped out the necessary steps and set a plan of action, we just don't have the answer.
The reason the answer for how long a site will take can vary so much, is because of the amount of variable factors every website has.
We're guessing you want your site to kick-ass? Do you want it to be better than your competition and for your customers to leave happier than when they arrived? If that's the case, don't rush it!
The beauty of using Create8 for your web design project is that we make absolutely sure that your business is involved in every step of the process.
We want you to know where your project is up to and to love it as much as we will. From the first scoping out phase of every project, we can provide you with a timeline. A list of dates for us as well as for you, you'll need to provide feedback and details to a deadline if you want to meet the suggested end date.
We take every step of the job into account and plan it meticulously to make sure your website is ready for world domination!
Theme V custom build
OK, so first thing's first, if you are looking for a themed build using one of the predetermined themes offered by WordPress. Your web design project will take much less time than if you want a website that is an entirely custom bespoke build.
This is because the WordPress themes come with a lot of the problematic leg-work already built into them. Less work to be done.
Using a theme doesn't mean your website won't be awesome or that your website will look exactly like someone else's. There are still plenty of flexible facets both behind the scenes and aesthetically within a WordPress themed build, especially if you choose a web design agency with plenty of flair.
If you want to learn more about the difference between themed builds and custom builds. Follow the link below to one of our recent blogs about building the best websites for our clients.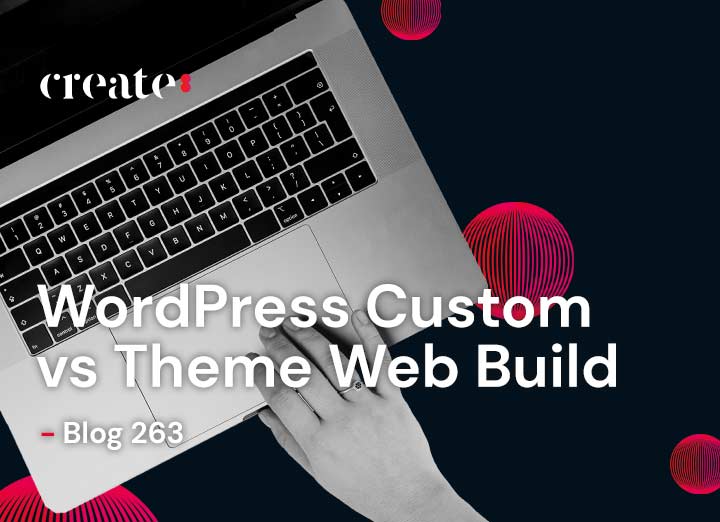 Page numbers
Would it take you longer to write an epic novel of thousands of pages or a novella with only thirty? Building a website is a pretty similar scenario; the more depth there is to your website, the longer it will take to make.
If you are an eCommerce business that sells hundreds of different items online, it will take significantly longer to upload all of those items and make specific pages for each than it would for a service-based company.
If you need a website to be built quickly but you have lots of pages. As with anything, if you want it done quickly, quality can often be lost in the process.
With extra pages comes more potential snags that will need to be ironed out. It also means if your website isn't fully optimised, it may load slowly. Slow loading times lead to website exits and bounced traffic, and that's not what you want.
What does your website need to do?
How long your website will take to build will also rely on what you need your website to do.
When building WordPress websites, the possibilities are pretty much endless in terms of functionality. With 50,000+ potential plug-ins available for your WordPress website, it's a good idea to decide early what your priorities are.
Additional applications will add to your build time, but they will also mean that your website can be developed and changed into the site you want.
So whether you want to optimise SEO across your blog-based website or if you're going to capture information from potential customers on your landing pages. Knowing what you want will mean the web designers can properly scope out the project and the estimated timeframe.
What about photos?
OK, you wouldn't believe how many times we've run into this problem; it happens a lot, actually!
So, your website build has started and product pages of all of your brilliant things to buy are being added. But wait, where's the imagery? Well, it turns out that the product photography hasn't been taken yet. So, how will your website be finished by the deadline without them?
It can't be.
If your product shots haven't been organised, then a web designer will be unable to finish your pages.
The look and feel of your images are integral to the layout of the site itself, if you don't have them, your website can't be completed.
Think about getting all of your imagery shot before the website build; this way your web designers can meet your deadlines and launch your site on time.
When it comes to website design, we have a whole host of different projects we have completed just waiting for you to explore.

If there's anything you've learnt from this blog, it should be that your website is probably the most crucial part of your business. You should also have picked up on the fact that how long a web design project will take is largely down to you, the client.
As technology continues to evolve at a rate of knots, websites are becoming more personal and are making a considerable difference to the profitability of businesses everywhere.
As user journies become increasingly essential, the focus is placed on how your website looks for each of the potential customers who visit. Is it easy for them to navigate and find what they're after?

The key to getting your website right is planning.
In fact, the key to knowing how long your website is going to take is also planning.
If you have a clear idea of how you want your website to work, how people are going to use and interact with it, and what you want to achieve. We can offer a manageable and malleable route to web design success.
By scoping out each of our projects individually, we can understand what your business is all about, and with that knowledge, offer our thoughts and ideas on how to make your website work.
So, the decisions are in your hands. If you are looking for a web design agency that breaks moulds and reinvents the wheel, then you have come to the right place. With buckets of experience and an eye for the aesthetically perfect, why not contact Create8 today, and let's get your website project moving.
Take a look at some more of our blogs for helpful tips, tricks and advice: