When embracing your heritage, your brand can say a lot more than you may believe. Are you looking to become a classic Manchester brand?
Alright, our kid? In case you haven't noticed by now, we are pretty obsessed with our heritage. We can talk to you about the dirty northern powerhouse, otherwise known as Manchester, until we are blue in the face, or red, depending on your football preference.
When it comes to building your Manchester brand, there's something increasingly romantic about regional pride. Gone are the days of brands who sing about their upbringing being confined to one area of expertise or one channel of revenue. It doesn't take much snooping around to see that brands that embellish themselves with geographical pride don't only sell in that area of the world.
Take Pretty Green, for example. Previously owned by a famous bloke from Burnage with a particular swagger, it was centred almost wholly around producing a specific Manc style with every piece they created. Global retailer JD sports have since purchased the brand, and now the products are shipped worldwide. Meaning your chances of seeing someone in Spain wandering around in a knee-length Parka jacket in mid-summer has increased vastly.
In this blog, we're looking at a few of the brilliant ways your brand can become an iconic Manchester brand.
Heritage
First and foremost, you need to know the heritage of the place if you're going to attempt to attach yourself to it. Manchester is a funny old city, and when understanding how this place could be the boost that your brand needs, you must think outside the box.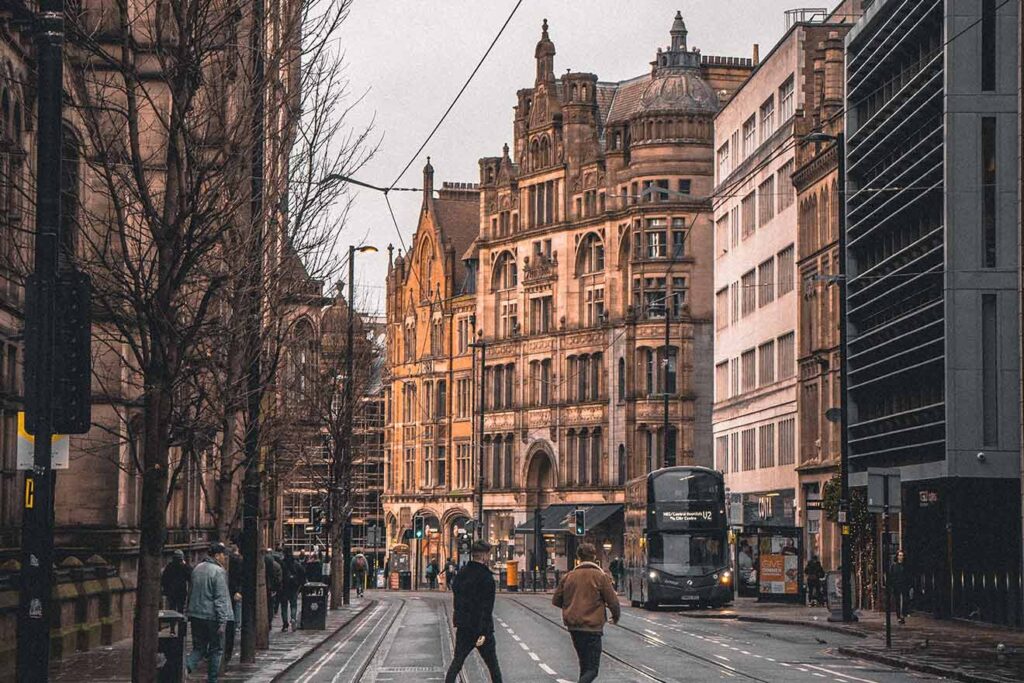 There are game-changing moments that occurred within these streets. Turing and Pankhurst being two that immediately come to mind. People in this city think differently, we are built to break the rules and crack codes, quite literally, and that's what sets our people apart. Could your business do more to stand out? Or does it simply exist to tick boxes and conform? Surely not?
If your Manchester brand isn't something completely different, don't worry too much, it's not the be-all and end-all. Your brand will be accepted whether you are a one-off product or a variation on a theme. You can still wear your pride and be as Mancunian as Vimto or the rain. We don't technically own the rain, but seeing as no one else wants it, we'll take it anyway.
Your story
So here's the second section, and guess what, it's a spin on the first! Yes, we have all the heritage for you to channel in your attempt to breathe some Mancunian passion into your brand. However, that's just the beginning.
Understanding what it means to be a Manc brand doesn't make you one. You have your own story to tell, so this is where it gets personal.
Growing up here or living here at some point will have rubbed off on you. It's inevitable, believe us.
What you have learnt from the city should be passed on to your brand in one way or another, whether it's a colour scheme popular within the city walls or an icon/motif that we can all relate to.
For example, the Worker Bee emblem is known as the icon for the city; since its rise in popularity, numerous Manchester-based companies have adopted the symbol within their work.
When it comes to building a great Manchester brand, we have lots of experience. If you want to see some of our work with Manchester-based fashion brand Hex, Click the image below.
How you tell your story and who will listen!
So, you are on the brink of becoming a genuine Manc brand, but there's one last piece of the puzzle we need to address. You've learnt what makes Mancunians tick, and you've built your own story around your Manc adventures. Now you need to know how to tell your story and who you want to listen.
If you aren't already, you should be utilising social media. There are countless brilliant ways to get yourself recognised as a player within the city on social media, and best of all, most of them are free! Think about building relationships with your target demographic and giving back to your community as it grows.
You can implement giveaways and discount codes within your social media content, and that way, you'll be able to see how far your audience grows whilst you incentivise the growth itself. Thinking outside the box with what you offer will build your database whilst creating consumer loyalty and potential UGC as you go!
Collaborate
Social media will also provide your brand with a platform to create local partnerships with other Mancunian brands. Making yourself known within your community is far more powerful than you may think. Word of mouth travels fast online. If people see you are doing what's right by your customers, they will create an affinity with your brand.
Online shoppers are also drawn to businesses that create working relationships with the brands they love already. By running a joint giveaway with another Manc brand, you can access their customers and vice versa.

Building a brand is an arduous journey. Businesses are transformed into memorable brands once they adopt personality and character.
Understanding what your potential customers want and how they want it to look and feel is possibly the most challenging job for all brands. As more and more brands turn to creative agencies to transform their branding, why don't you?
At Create8, we specialise in eye-catching branding, game-changing graphic design and mould-breaking marketing. We put your needs and ambitions at the forefront of the bespoke project that we build. We inject a little extra Mancunian charm into every job we complete.
So, what more do you need to know? If you want to discuss working with us, send a message; we love a good chat and enjoy learning a little more about our clients.
Take a look at some more of our blogs for helpful tips, tricks and advice: