With Halloween around the corner, have you prepared your marketing offering to drive more sales?
Before you think we've gone mad, it's essential to strategise early for any potential commerce around a holiday. Believe it or not, Halloween is one of the most lucrative times to drive customers to your eCommerce website.
Whilst the world is thinking about sunshine, beaches and holidays, marketers are strategising so that their clients can see the benefit of the scariest time of the year.
Halloween is an absolute favourite in the marketing sector, the sooner you take it seriously the better.
This blog will highlight several ways to tailor your efforts around Halloween and create a strategy that will have your competitors green with envy.
Think about the theme
The key to any successful business strategy is highlighting the theme you are focusing on. Great marketing campaigns often get lost when they lack cohesion and planning. Firstly, you need to think about how you are going to get themed elements into your eCommerce website.
So, it's Halloween, as you wander through town, you are likely to see cobwebs, bats, skeletons and much more adorning the shopfronts. There will be staff dressed like zombies, or maybe they've just been out the night before… Everyone will decorate, so your eCommerce store needs to be doing the same.
Halloween-themed visuals will catch the consumer's eye, generating excitement and often leading to sales. Our tip would be not to revamp your entire website or mess around with the coding; this will make it difficult and inconvenient to change back once Halloween is over.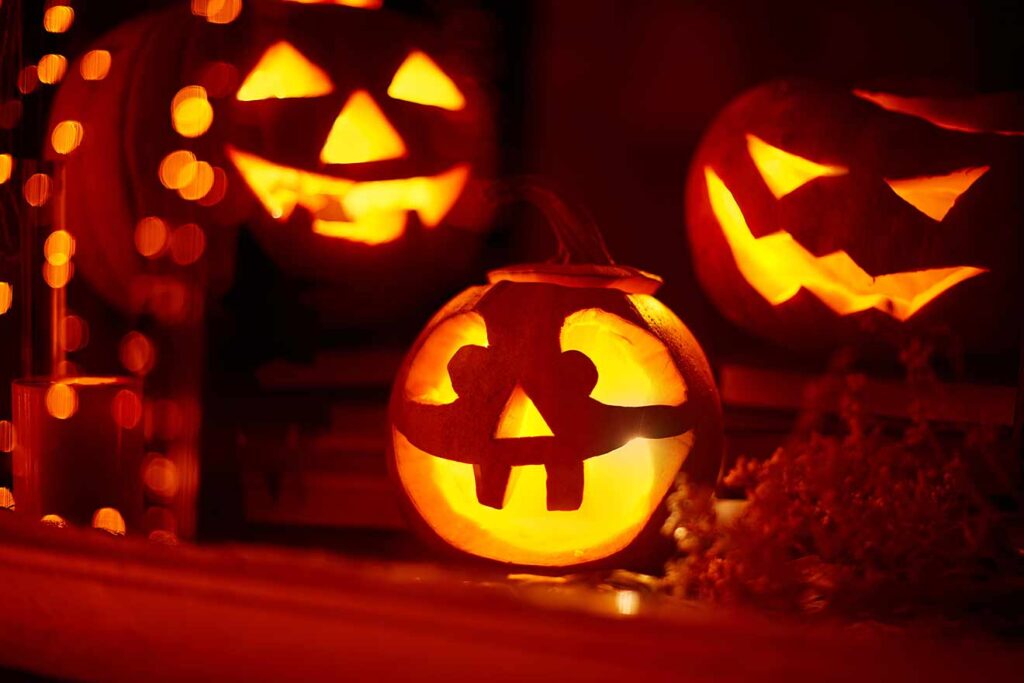 Customising various elements of your existing website will keep it fresh and make taking your decorations down as easy as putting them up.
Utilise a spooky-themed pop up to capture customer data whilst they shop. This way, you will not only be able to present something relevant and Halloween themed, but you will also capture valuable data for remarketing at a later date, win/win.
Talk to your customers
One aspect of marketing that is making a resurgence is the beloved email marketing approach. As retargeting ads have suffered in recent months across social media, more and more emails have landed in our inboxes.
A correctly implemented email campaign can drive traffic and act as a little "hey" to remind your current customers you're still here.
Email marketing must be strategised; otherwise, you're going to get the viewers attention for just a millisecond, if that. That being said, Halloween is the perfect strategy for you to make the most of, so get planning today!
Use a clean and readable design that captures the eye of the reader and is instantly understandable. We would also suggest using lots of negative (white) spaces as this generates calm in the reader, which is precisely what we want and need after the last eighteen months.
With your themed content, you need to scream and shout about what you're doing for your email subscribers. Whether that's a discount code for the Halloween period, "Spooky20", or a promotional giveaway like a free packet of Halloween goodies with every purchase over £50.
Think outside the box because other businesses will also be strategising for Halloween; you need to stand out and capture your potential customer's attention whilst you can!
At Create8, we love providing bespoke marketing and digital strategies for each of our clients. As each project comes through our door, we gather our team, graphic designers, social media strategists, and digital marketers and start working on something mind-blowing. It sounds like a superhero film, right? It's not; it's just Create8 HQ.

Give me more
So it's no secret that the digital giveaway is the go-to marketing plan for most businesses who operate online. But, the truth is, there's a good reason for it. Who doesn't want something for nothing? We do, that's for sure!
The beauty of a giveaway or an online contest is that it builds a buzz around your brand and gets tongues wagging in all the right ways.
Running these sorts of marketing ploys also has a fabulous secondary agenda for your business. For example, if you are able to gather enough entries, your social media following will likely grow alongside this.
Competitions also build great customer loyalty as they see you giving away something for nothing. This paints your business as one that cares about the people who interact with it.
The key to your Halloween-themed giveaway is that it runs cohesively across all of your customer-facing marketing platforms. So, get your posts up on social media, place your artwork and graphics on your website and email your subscribers telling them about the giveaway.
If you think outside the box, you could put a 'trick or treat' theme into your campaign. Include spiders, mice and anything else spooky you can think of; the key to Halloween marketing is to have fun!
Trick or treat
Halloween is a holiday that people remember for all the right reasons. It's hard to attribute any negative memories to a night that revolves around having fun and letting out your wild side.
It's the perfect opportunity to connect with your potential customers and build a rapport with those who matter. To do that, you're going to need a marketing campaign that stands out from the crowd and creates a buzz amongst all of those Halloween-themed graphics.

If you don't feel comfortable taking control of your business digital marketing campaigns, we are here to help! With a versatile team of experts who build mould-breaking campaigns, your efforts will be in safe hands.
For more information, contact us today. We can't wait to hear from you to discuss all of the brilliant projects we could create together.
Take a look at some more of our blogs for helpful tips, tricks and advice: