Why is Valentine's Day marketing important?
We've blinked and we're halfway through January, which means it's time to start thinking about Valentine's Day!
Valentine's Day is one of the most profitable holidays of the year, with Brits spending a total of £990m on their loved ones in 2022 (up from £868m the previous year). To get your share of the cash this February 14th, you'll need to give your business a heart-shaped boost. 
So, what are you waiting for? Check out these adorable marketing strategies for eCommerce businesses and show your customers some love this Valentine's Day. 
8 Valentine's Day Marketing Strategies
Run a Valentine's Day Sale
Stock Up on Valentine's Day Products
Make a Valentine's Day Gift List
Offer Free Shipping
Run a Valentine's Day Social Media Campaign
Add a Countdown Timer
Reward Loyal Customers
Optimise Your Website
Run a Valentine's Day Sale 
Let's face it, Valentine's Day is as much about gift giving as it is about love. To encourage people to buy from your eCommerce website, figure out which products in your offering say 'I love you' the most and include these in a cute and loveable Valentine's Day sale.
Make sure you think outside the box (of chocolates…). It's not always about flowers and big red love hearts – with the Cost of Living Crisis affecting all of us, less glamorous but more useful products may well say 'I love you' too. It all depends on who you're buying for!
Sales are one of the fastest ways to attract and convert customers. Use social media and email marketing to promote your Valentine's Day sale and include some of your bestsellers in the promotion to drive people to your website. Then, you can start turning their clicks into sales. 
Stock Up on Valentine's Day Products 
Whatever you're selling this Valentine's Day, make sure you have enough stock to keep up with demand. There's nothing worse than running out of a popular product and losing out on a huge chunk of sales.
Even if they aren't normally in your product offering, it might be a good idea to stock up on some traditional Valentine's Day gifts to sell alongside your usual products. Think pink hearts, red roses, even glitter! 
Don't forget to offer products at a variety of prices. Spending can range from £5 to £500+, depending on who your customers are buying for and what their price range is. A broad offering is the best way to guarantee profits.
Make a Valentine's Day Gift List
Don't forget to cater to the 'browsers', aka those who visit your website with absolutely no idea what they're looking for…
Make a Valentine's Day gift list or collection with a mixture of high value and low value products as well as sale items. Let shoppers work their way through the list until they find the perfect gift for their loved one. Add filters to the collection so that customers can refine the list to suit their needs and budget. 

If you want some inspiration, check out this gift list by Lush.com: Valentine's Day Gift Ideas. And don't forget to make your list the talk of the town – promote it on social media or through email marketing so that you can make the most of the increased traffic.  
Offer Free Shipping
Another great way to encourage people to buy from your eCommerce store this Valentine's Day is to offer free shipping on their purchases.
If you're worried about losing out on profits, you could offer free shipping as a perk on orders over a certain amount. Setting the amount just above your average order value will increase sales because customers are incentivised to buy an additional item or add-on. 
Next day delivery is another great way to encourage shoppers to purchase their Valentine's Day gift from you instead of your competitors because it takes the worry away from customers who have left things to the last minute. 
Run a Valentine's Day Social Media Campaign 
Whether you like it or not, social media marketing is here to stay. Post on Facebook, Twitter, Instagram and Tik Tok if you want to leverage some sales power this Valentine's Day!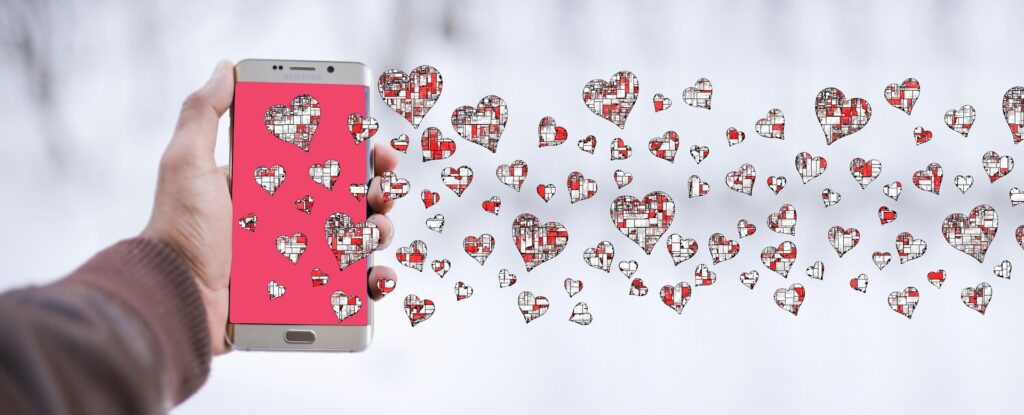 Show off your products on your business page or use social media influencers to promote them for you. You'll need to interact with customers and build your following to really reap the benefits.
You'll be in safe hands if you choose Create8 to organise, manage and regularly update your eCommerce business's social media channels. From Instagram to LinkedIn, we know how to help.
We'll take into account your sector and audience, and come up with a personalised social media strategy that works for you. To find out more about our processes or discuss the countless ways we can boost engagement with your brand, contact Create8 today.
Add a Countdown Timer
Did you know that adding a countdown timer to your eCommerce website or marketing efforts is a great way to drive sales? It creates a sense of urgency and motivates shoppers to make a purchase, before it's too late! 
You could use a timer to countdown to Valentine's Day itself or to let customers know how much time is left to make an order and still be eligible for next day delivery. Countdowns are a non-intrusive way to influence buying decisions without hindering the user experience. 
Reward Loyal Customers
Valentine's Day is all about showing appreciation to those we love, so why not give your loyal customers a discount code or deal. You can send it out over email (or push notification if they have your app downloaded) and it will help to drive traffic to your store and increase sales.
Brand loyalty is one of the best ways to keep your business afloat, so it's always a good idea to invest in customers that regularly purchase from you. It keeps them coming back for more!
We recommend offering a percentage discount between 10% and 25% or a free item if they spend above a certain amount. You already know they like your brand, so offer something that your loyal customers can't say no to. Your sales will be through the roof in next to no time!
Optimise Your Website 
It's time to show your website some love too… by prioritising SEO! When you pay attention to what people are actually searching for, instead of what you think they want to find, you'll get more traffic than ever before. And it will be just in time for Valentine's Day!
Conduct keyword research, paying attention to the long-tail keywords that are easier to rank for, and make sure your website loads quickly to reduce bounce-rates. Don't forget to also optimise the user experience (UX). 
If you want to start ranking better on Google to drive traffic to your website on Valentine's Day and beyond, get in touch with Create8 today for an SEO consultation. 
When should you start marketing for Valentine's Day?
Right now! 
Valentine's Day is less than a month away so you should start marketing efforts now if you haven't already. It's the perfect time to target organised shoppers who like to plan ahead. 
Make sure you increase your advertising and marketing efforts from February 1st to drive even more urgency. We also recommend that you do a marketing push a few days before the big day to entice last-minute shoppers to purchase their Valentine's Day gifts from your eCommerce website. 
Speak to an eCommerce Expert
If you need help with your eCommerce business, contact Create8 today. We're an award-winning web design agency with a fabulous team of digital marketers and web developers on hand to help you with all of your marketing needs.
From Valentine's Day to Halloween, we know how to drive eCommerce sales on holidays and celebrations. Check out our previous case studies to get a clear idea of what we could do for your eCommerce website.