An eCommerce website is all about the shop, you need to make sure your products stand out, have the necessary information and they need to sell themselves
Every day we are surrounded by brilliant new products making their way to market. As a design agency, we see more than most and can sometimes be left with our mouths hanging open. The more innovative the business, the more aesthetically satisfying the products seem to be. In this blog, we are talking about how you can showcase your products' full potential online.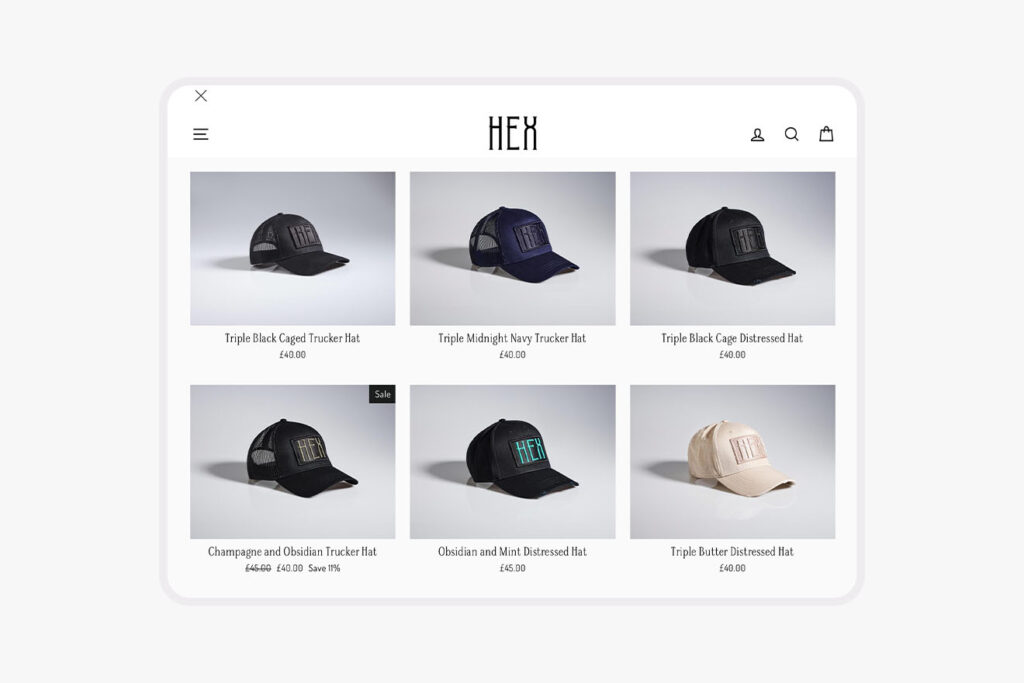 As you know, if you aren't online nowadays, you might as well not be anywhere. As the amount of eCommerce websites grows and your sector's competition likely strengthens, you need to stand out!
They say that a picture speaks a thousand words, but a lousy picture speaks even more, just not in the way you want. So, our top tips for showcasing how great your product is and how many benefits it can bring to your customer's lives.
Nothing is something
When uploading products to your eCommerce website, the first thing to think about is how congested the pages are. Surrounding your images with white space allows the potential customer to focus solely on the product itself. Using colours that contrast or distract from your products within your theme can make the item you are trying to sell blend in and seem insignificant, not ideal.
If you are using colour, you want to try and incorporate colours that compliment your products, subtle tones if your product is light and clean. If you are going to a crazy, colour filled brand and product, have a play around but make sure your products are the main focus of attention.
Quality vs speed
When it comes to your photographs, quality is everything. Grainy, low-resolution pictures are not acceptable and won't highlight the greatness of your product.
Images that are too far away from your product or not clearly showing the item on sale should also be avoided.
However, you do need to also consider the size of the files you upload to your eCommerce website. Large photos will cause slow loading times, which can lead to people leaving before the website has fully loaded.
Consistency and Style
You may already do things with a particular style and panache. So whilst it may be obvious to some, your style must remain consistent through your eCommerce website and product photos. For example, if you sell velour chairs, we all know how popular those things are; if your grey option has been shot from above and the blue option from below, it can make the product choices confusing. Are they different styles of chairs? Consistency is key, especially when it comes to driving sales.
How does it work?
Not to state the obvious, but the number of times we see product photography that fails to show the product in a natural placement still baffles us. On eCommerce websites, we've seen vases used as door stops and cutlery as ornaments.
Everyone likes a versatile product, and in a world that uses books as a decorative piece that no one ever reads, we completely understand the angle. But confusion could push potential customers to leave your eCommerce website. If you see your product as versatile, make sure you still have product photos of it in its natural habitat. If it's a vase…put flowers in it.
What about words?
So, the question stands, are the words you attach to your product photography part of the photography itself? For us, it's categorically a yes.
We understand the difference between your wordy, overemphasised description and a sharp, clean image. But, the complementary role they each play means they come as a pair.
Your brief wording should tell the customer the dimensions and materials of your products. A picture speaks a thousand words, but unfortunately, it can't tell us everything, so filling in the gaps will decrease the number of questions your customers have.

At Create8, we constantly strive to rethink the mould when it comes to the world of eCommerce. As a design agency, we know what it takes to make your branding pop from the screen and how to drive sales to your products through thought-provoking design work. Our experience gives us a leg-up on the competition as we continue to provide our clients with fully immersive branding, marketing and design projects.
Take a look at some more of our blogs for helpful tips, tricks and advice: