Here's our Earth Day Tips, Being reflective allows us to analyse what went right and where we slipped up, whether the thoughts are positive or negative, we always think the lesson we learn holds just as much importance.
As seems to be the case more frequently these days, we're discussing climate change. Whilst this may make some readers fall asleep, those dreaded words are becoming ever more poignant in our society, and we love how businesses are standing up and taking responsibility.
'This crying earth, these weeping shores.'
The overarching message of Michael Jackson's 1982 hit was clear, but for the decades to come, the business sector was and is still all about making that cold, hard cash.
April 22nd will see the 50th anniversary of Earth Day, and now is the time you and your business could make a difference. As we see more and more tireless efforts from the so-called 'big boys' in the business world. The question then arises, is climate change becoming something you can use as a marketing campaign? And should it be? With the right mindset you can improve your eco-friendliness and from this, utilise your marketing to let people know you are a better choice than your competitors (because you would be!)
Your carbon footprint
The amount of pollution you could be producing as a business is something you are responsible for, causing problems in the automotive sector for car manufacturers. However, the battle to produce hybrid and electric cars has been one of significance not only for the industry itself but also for those looking to purchase vehicles in the general population.
Tesla led the way as they created multiple vehicles, each looking slicker and being more eco friendly than the last. This, of course, created a secondary race to try and hit back, up stepped Hyundai who created the world's first electric SUV and emblazoned their eco-friendly campaign with the slogan, 'Your turn, Elon' in reference to the CEO of Tesla, Eco enthusiast, Elon Musk.
The Superbowl is one of the biggest sporting spectacles in the world, and in 2017 an audience of over 100 million people watched Kia step-up to the plate. With the use of Hollywood celebrity Melissa McCarthy, Kia launched their new electric car. The advert was aired globally and particularly stood out for the McCarthy quote, 'It's hard to be an eco-warrior, but it's easy to drive like one.' In highlighting this, Kia championed to the world that by making small changes, you can do your bit for the environment.
The extinction of animals
We live in a world where watching a happy dog makes us feel all warm and cuddly. So as climate change drastically increases extinction in certain species, why not highlight how a shift in mindset could save the life of one of those in danger?
We needn't look any further than the WWF; they are a business solely dedicated to highlighting the eco-damage done by the human race. Despite being a conservation fund, there's plenty of inspiration you can take from the fabulous branded campaigns they run. From brilliant messages to mind-blowing photography, the information spread by the marketing division of this business is one of the best in the world when it comes to climate change.
View this post on Instagram
We also saw clothing giant Lacoste tap into the animal conservation outlook. With the release of their limited edition, 'save our species' collection. What Lacoste achieved was a sensation; in replacing their classic crocodile logo with the silhouette of various endangered species, they created not only a desire for the product but also a public knowledge regarding the situation of the species in general.
Lacoste highlighted that the number of polo shirts made represented directly the number of that species left in the wild. They marked the brilliant campaign by splitting the profits with a conservation charity, thus meaning it was win-win for business and charity.
View this post on Instagram
Pack it right
Even changes to the way you send your goods as a business can significantly alter the carbon footprint you leave. For example, supermarkets adding a 5p charge to a single-use plastic carrier bag has led to a reduction of almost 90% in what some of the big supermarkets are now using. Incredible numbers and a mind-blowing difference, all for the sake of 5p! Could your company adopt a similar model?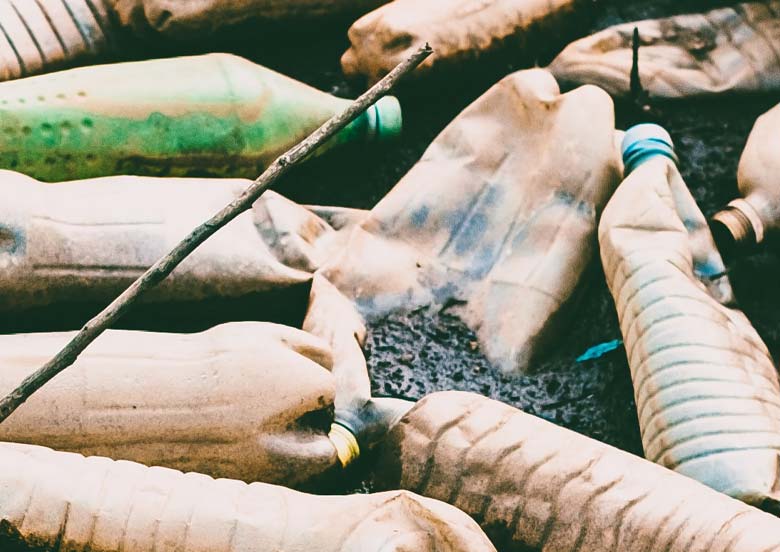 It has become even more evident when you look at the amount of plastic that used to be shoved into the packaging of online orders. With the largest online retailers now choosing to either pack multiple orders or turn to wholly recyclable materials in which to send their goods, the eco-friendly mindset is certainly front and centre in society.
Our Earth
As Earth Day rapidly approaches, is there anything your company can do to lessen your carbon footprint? We can't expect to make a drastic change individually, but the sum of our small changes will lead to something much bigger overall.