Futureproof your eCommerce business
Providing a seamless omnichannel shopping experience can give businesses a competitive edge. The problem is, it can be complicated and time-consuming to achieve this using traditional eCommerce. And that's why many businesses opt for a headless commerce architecture instead!
By switching to headless commerce, you can prepare your business for the future and take advantage of the Internet of Things (IoT) by connecting your website to various smart devices and channels.
Headless commerce is paving the way for a revolution in online shopping by giving businesses more agility and creative freedom with where and how they sell their products.
In this article, we'll explain what headless commerce is and discuss the advantages of going headless to help you decide whether it's the right option for your business.
What does headless commerce mean?
Headless commerce separates a website's front end and back end. The front end is the part that customers see and interact with, and the back end comprises the systems, data, and tools that help your website run smoothly.
Examples of the front end include your online storefront, social media channels, and mobile apps.
Examples of the back end include your CMS, CRM, and database, 
In traditional eCommerce, the front end and back end are intrinsically linked. You must change the back end to adjust what the user sees in the front end.
With headless commerce, this is not the case. The front and back end still communicate via an API (Application Programming Interface), but they're independent of each other.
While it may sound a little complicated, many businesses find that headless commerce makes it easier to build the user experience (UX) they want, improve website performance, and stay competitive in the Internet of Things (IoT) era.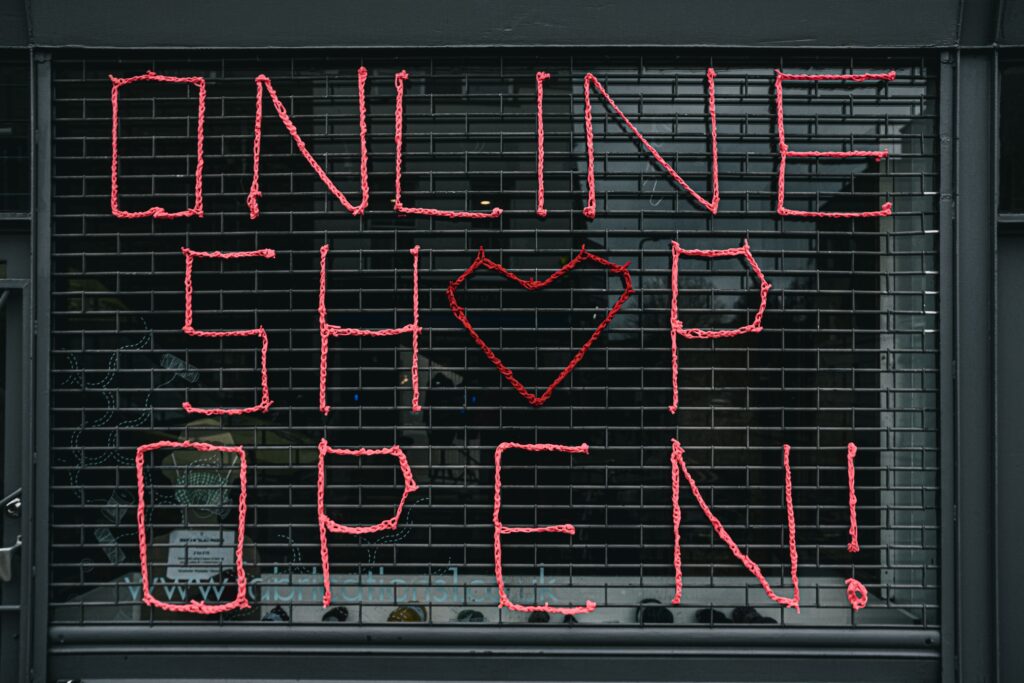 Benefits of headless commerce
Headless commerce offers many advantages for online businesses that want to deliver a superior customer experience and stay ahead of the competition. Some of the benefits of headless commerce are:
Limitless customisation 
Many businesses adopt headless commerce because of the limitations of traditional eCommerce. The problem with traditional eCommerce is that the platform's capabilities limit your creativity. When you use headless commerce, the sky's the limit. Not only do you have access to a wide range of pre-built integrations, but you can also custom-build using APIs and SDKs (Software Development Kits).
Omnichannel UX
Multichannel selling has numerous benefits for both customers and businesses. Customers receive convenience, choice, and a more personalised and unique shopping experience. Meanwhile, companies can increase brand awareness, improve conversion rates, and boost customer loyalty. Going headless makes sending your content to any channel or touchpoint easy, provides a convenient omnichannel UX, and helps you to reach more customers.
Stay competitive 
Headless commerce can help to keep your business competitive in a saturated online marketplace. The headless way of working allows businesses to be creative, stand out, and offer something different to customers.
Faster page load speeds 
Improving your website's page load speed can significantly improve conversion rates. Customers expect web pages to load quickly; if yours don't, you risk losing customers to your competitors. A headless commerce architecture with uncoupled front and back ends can significantly improve the front end's load time.
Futureproof  
Headless commerce uses APIs to deliver content to any channel. This means that if new channels and technologies are introduced in the future, you won't need to waste time and money reauthoring your content.
Integrations 
With traditional eCommerce, businesses can only use integrations that are compatible with the eCommerce platform their website is built using. In a headless architecture, you have the freedom and flexibility to integrate with anything that has or can be accessed through an API.
Scalability 
A headless commerce system can grow and adapt to your business. Scaling up or down your back end resources in a headless architecture is easy and doesn't affect front end performance.
Drawbacks of headless commerce
As we've seen, headless commerce has plenty of benefits, but it also has some drawbacks.
It's essential to weigh up both the pros and cons of using a headless commerce architecture before deciding whether it's a good fit for your business.
Requires a developer 
Generally, businesses choose to go headless because of its endless possibilities for customisation and personalisation. Creating and updating a highly customised headless commerce system is complex, and most companies will need to hire a developer or work with a web design agency.
Costs 
There is often more expense involved with setting up and maintaining a headless commerce architecture. Businesses will need to factor in the price of hiring a developer or web design agency and paying for multiple technologies and tools for both the system's front and back ends.
Time to set up 
Headless commerce can take longer to implement and launch as it tends to be more complex than a traditional eCommerce solution.
Headless commerce vs traditional eCommerce
Now that we've explained headless commerce's pros and cons, let's see how it measures up against traditional eCommerce.
Traditional eCommerce encompasses any eCommerce website building platform where the front and back ends are coupled. This includes popular platforms like Shopify, Magento, WooCommerce, and BigCommerce.
One of the main reasons traditional eCommerce platforms are so popular is their simplicity. Small and medium-sized businesses with basic requirements and modest budgets may find that these meet their needs. Traditional eCommerce is often designed to be intuitive and user-friendly. Platforms like Shopify provide an all-in-one solution that is quick and hassle-free to set up. In comparison, headless commerce requires far more technical expertise and resources.
Traditional eCommerce is also usually more affordable to set up and maintain. The pricing for traditional eCommerce is generally fixed and predictable, whilst the cost of headless commerce is usually higher and more variable. 
However, traditional eCommerce platforms are often relatively rigid, providing less flexibility when it comes to customisations and integrations than headless commerce. If your business plans to sell or connect with customers over many different channels, there will often be inconsistencies when trying to achieve this with traditional eCommerce. In contrast, headless commerce provides customers with a seamless omnichannel experience.
Finally, as your business grows, you may have to increase your online capacity. This may cause performance issues on traditional eCommerce platforms, whereas headless commerce architecture can handle large volumes of traffic and data without compromising speed or quality.
Which platforms offer headless commerce?
Building a headless commerce solution from scratch can be challenging and time-consuming. For this reason, many businesses use a headless commerce platform that provides essential commerce features and capabilities through APIs and can easily be integrated with any front end.
Let's learn more about some of the popular headless commerce platforms today.
Businesses can build headless storefronts on Shopify using Shopify's Hydrogen and Oxygen tools. Hydrogen helps businesses to create custom and dynamic web pages that connect to Shopify's back end system. Oxygen allows enterprises to deploy and scale their storefront for free on Shopify's global network.
Magento offers several valuable tools for businesses that want to go headless. Adobe Experience Manager helps companies to create and manage content-rich front end experiences that integrate with Magento's back end. The PWA Studio can build and deploy progressive web apps (PWAs), and Magento's REST and GraphQL APIs will connect your front end layer to Magento's back end system.
BigCommerce provides plenty of help and advice for businesses who want to adopt a headless architecture. It offers comprehensive API coverage and documentation, and easy integration with third-party CMSs. It also provides ready-made headless solution kits containing code samples, documentation, and best practices to make transitioning to headless commerce as fast and hassle-free as possible.
Businesses that choose the CommerceTools platform when going headless will benefit from its Merchant Centre feature. The Merchant Centre has a user-friendly interface that helps businesses to manage products, orders, customers, and channels for their headless storefronts without requiring developer assistance.
Salesforce Commerce Cloud offers businesses transitioning to headless commerce various tools to help build and launch a headless storefront quickly and easily, including a Progressive Web App (PWA), the Commerce Cloud Developer Centre, Headless Solution Kits, and learning resources.
What is the difference between headless commerce and a headless CMS?
Headless commerce and headless CMS both operate similarly: they decouple a website or application's front and back ends. 
The main difference between the two is that headless commerce primarily focuses on the commerce functionality of a website, i.e. product catalogue, inventory, cart, checkout, payment, etc. In comparison, a headless CMS focuses on managing and delivering a website's content assets, i.e. blogs, images, and videos.
Headless commerce and headless CMSs are often used together to create a powerful and seamless user experience (UX) for customers.
Is headless commerce right for my business?
Just because headless commerce has plenty of benefits, it doesn't necessarily mean that it is the right option for your business.
To decide whether you're better off using headless commerce or traditional eCommerce, you should consider the following factors:
Budget

Business goals

Technical skills

Level of customisation required

Features and functionality required

Customer needs and expectations
Setting up and managing a headless commerce system can take more time and money than a traditional eCommerce platform, so you should ensure that the value it can provide your business outweighs the cost. 
If your business does not require the extra customisation and functionality or a multichannel presence, it may make more sense to stick with a traditional eCommerce platform.
However, if your business has outgrown its CMS or the functionality of traditional eCommerce platforms, or you're looking for a way to differentiate yourself from your competitors, going headless could be the change your business needs to grow and thrive.
Transition to headless commerce with Create8
At Create8, we have a skilled team of web designers and developers who are experienced in helping businesses transition seamlessly from traditional eCommerce to headless commerce.
If your business has outgrown its existing platform and is ready to begin pushing boundaries and reaching more customers through new channels and touchpoints, then why not browse our work online and contact our team today to discuss your project?
FAQs
What is headless commerce, and how does it differ from traditional eCommerce?
In headless commerce, a website's front and back ends are separate rather than dependent on each other like they are in traditional eCommerce. 
What are the advantages of adopting headless commerce?
The main advantages of adopting headless commerce are increased flexibility and creativity, a seamless omnichannel experience, improved site speed and performance, and ease of scalability.
How does headless commerce work with popular eCommerce platforms like Shopify and Magento?
In headless commerce, Shopify, Adobe Commerce (Magento), and other popular eCommerce platforms can be used for their back end functionality and APIs. The front end would then be built with a custom or third-party solution.
What are some use cases and examples of headless commerce implementation?
Cosmetics brand Lancome uses headless commerce to provide customers with a unique and forward-thinking user experience. It created a voice-assisted app that integrates with Amazon Alexa and Google Assistant, allowing customers to order beauty products and get beauty tips using voice commands.
K2, a winter sports equipment company, transitioned from a traditional eCommerce platform to a headless setup, choosing BigCommerce for its back end and Contentstack for its front end and CMS. According to a case study by Contentstack, this helped K2 to increase website creation speed by 75%, and publish and manage their content 90% faster.  It also boosted their productivity by 50%.
What should I consider when deciding whether to transition to a headless commerce architecture?
Before deciding whether to transition to a headless commerce architecture, you should evaluate your goals, budget, and technical skills, as well as your customers' needs, and the level of customisation required. You should also weigh the pros and cons of headless commerce versus traditional eCommerce to decide which option best suits your requirements.