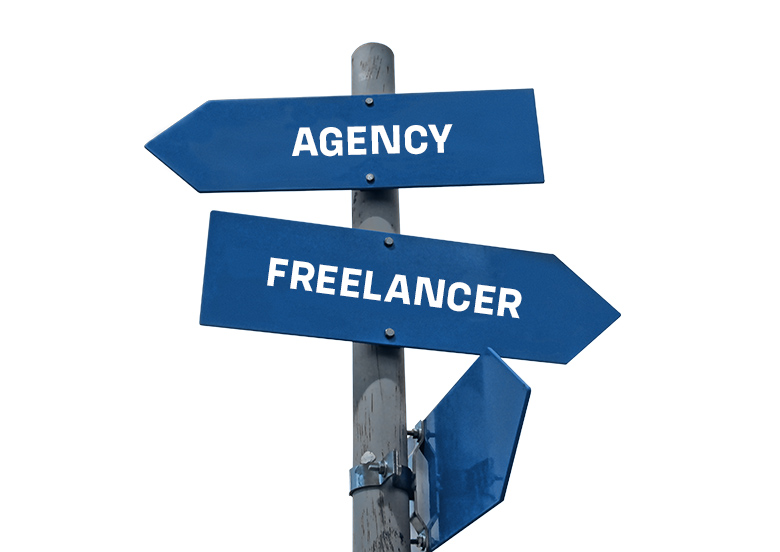 017. What's the Difference Between a Freelancer and an Agency? (Tips)
017. What's the Difference Between a Freelancer and an Agency? (Tips)
https://www.create8.co.uk/wp-content/uploads/2019/02/agency_or_freelancer.jpg
780
552
Create 8
Create 8
https://www.create8.co.uk/wp-content/uploads/2019/02/agency_or_freelancer.jpg
So, you're looking to create some new logos and branding for your company but aren't sure where to start? Don't worry, all businesses go through this stage. Businesses in their early days need to save money where they can, so some will try and produce this work themselves; this unfortunately throws up some problems.
Graphic design is a much more complicated and skilled process than it first seems and attempting to produce your own logo can result in a poorly designed and poorly executed results. That is why it is important that you hire a professional to do the job for you – you will save money in the long run and avoid wasting any money and time trying to do it yourself.
When choosing a professional there is a question you must first ask yourself:
Do I choose a freelancer or a graphic design agency?
First you must understand the difference between the two:
A Freelancer: is a self-employed individual who will communicate directly with you.
An Agency: is made up of many people. You will deal with a manager who will have a group of graphic designers working under them.
Which one to choose?
They each have their own pros and cons when it comes to graphic design tasks, but what are the major differences between the two?
Cost
Freelancers will generally cost you much less than an agency will due to their much smaller overheads. If your job requires you to hire a number of separate freelancers, this is when the costs can start to creep up and make an agency a more desirable option.
Specialised
A lot of freelancers will focus on an exclusive area and will not deviate from it. So, if you hire a graphic designer freelance that is exactly what you will get. If there is an issue, however, the large teams at an agency will have a much better chance of overcoming them.
Reliability – If a freelancer becomes unwell or goes on holiday then work will unfortunately come to a stop; a problem that doesn't occur within agencies thanks to the cover options available to them through a larger staff base.
Location
Agencies generally have a fixed office location where you will need to travel to attend meetings with them. Freelancers are much more flexible with locations and also with their time schedules, with some willing to work outside of normal working hours.
If you are looking for a trusted agency for Graphic Design in Manchester, contact Create 8 today and we will be happy to talk you through everything we offer.