2020 has been quite the year. With ups and downs for everybody at home or at work. We took some time to chat to Create8's newest team members about starting a new creative job whilst working from home.
What has been your favourite part about working at Create8?
M: Working on so many different projects!
E: Working as part of a team. Working with Pete, Sami & Luke is great. I feel like I have learnt a lot in such a small amount of time!
What has been the best and worst thing about joining a new business during lockdown and working from home?
M: Having the fridge next to my desk has been a big plus! The worst thing is that I haven't been able to get to know everyone properly yet.
E: The best thing for me was being able to get a job at an agency where I instantly felt welcome and a part of the team, which is difficult when working from home! The worst is probably not having met everyone in person – but I know that will happen at some point!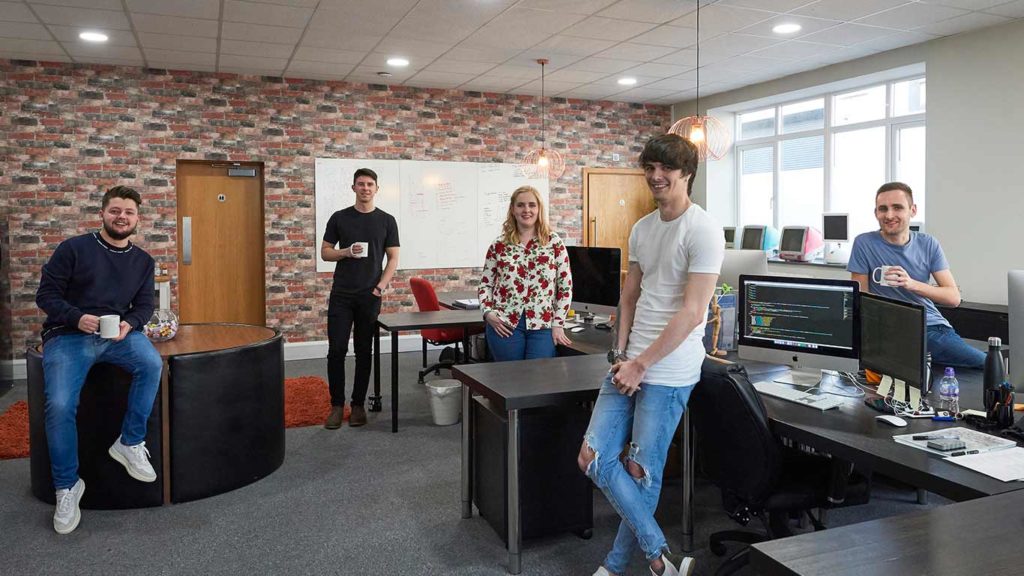 What's the first thing you will do when we eventually go back to the office?
M: Make everyone including myself a brew.
E: Finally introduce myself to everyone in person! It is strange to think I've only met everyone online. And of course, put the kettle on!
What is something we'll always find on your desk?
M: Something that plays music, I can't work without music!
E: Definitely a coffee, or a mug of a recently finished coffee!
What's something you will bring to the office on the first day back?
M: The office plant I took home to take care of (if it's still alive…)
E: Definitely a cake, or the largest box of chocolates I can find and a bottle of fizz. Is that too much?
What should our 2021 Christmas party be?
M: Escape Rooms
E: A mini Christmas Day. A full 24 hours of glitter, food, drink and games – really bring out everyone's competitive side!
How are you finding the design/web design process working from home
M: Challenging, but I don't know how I would have managed it without video calls!
E: I am really enjoying the work and the fast-paced environment, working on multiple projects at a time – it's great to get stuck in. I also found the adjustment to working from home easier than I thought I would – that is 100% down to everyone at Create8.
Welcome to the team Max and Eleanor! 2021 is looking up! We are ready to see what we can design, create and launch for our clients next year.