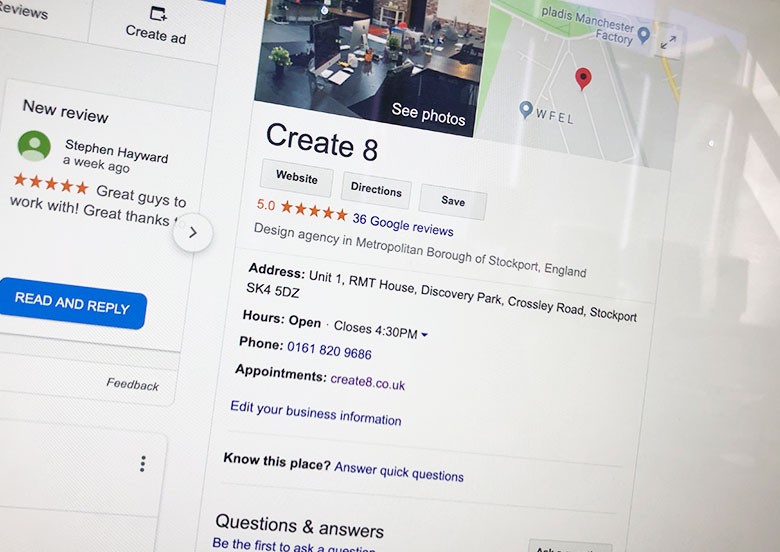 043. Why using Google My Business is Important (Tips)
043. Why using Google My Business is Important (Tips)
https://www.create8.co.uk/wp-content/uploads/2019/07/GoogleMyBusiness.jpg
780
552
Create 8
Create 8
https://www.create8.co.uk/wp-content/uploads/2019/07/GoogleMyBusiness.jpg
Why, what and how is Google My Business Important?
First of all, why wouldn't you set up Google My Business, it's completely free? also Google My Business is perfect for local search results.
What is Google My Business?
It's a free tool that Google gives to businesses to manage your presence on Google itself including Company Details, Search, Maps, Services, Photographs, Reviews, Daily Posts and more. Have you ever googled a company and seen a full description pop up on the right-hand side? That's Google My Business it's kind of like a 'profile' for your company.
How is this useful for your business?
You can show up in the local search results for the services you provide, for example, if somebody searches 'Web Designer Stockport' we will come up along with all the other web designers who have to google my business in our area. This also shows where you are on a map to see how close you are to them. This is obviously great for getting more customers.
Using Google My Business can improve your SEO results pushing you further up the ranking, drive more traffic to your website and gather them extra clients or customers in your local area.
If you're doing a good job and the customers like what you're doing you can get them to review your business. This gives future / existing clients more trust in your services.
All your contact details and opening times can be put on Google my Business making it easier for your customers to know when you're open and how to contact you.
How to get started with Google My Business
Visit www.google.co.uk/business and click Start Now, then follow the information to set up your Google My Business account.