Video Production Interview with Feral Films
This months interview is with Sophie from Feral Films, Feral films is a video production company based in Stockport.
1. How did you get into the video production business?
I fell into it by accident. I had a background in project management for an IT company and had done a few different roles in IT. I ran a small business myself whilst my kids were little then, just over 6 years ago, Nick was working at a big animation studio in Manchester and decided he wanted to set up Feral. He did most things himself to start with, I just helped with the admin and tax returns etc. Then, as Feral grew, I started pulling away from my business to spend more time helping Nick. Now, I work full time for Feral, producing many of the projects, interviewing people/customers and arranging the shoots. I also manage the animation and voice over projects for Feral. We are now a team of five full time members, we also have a group of around 12 freelance crew that we use regularly for bigger projects.
2. What advice would you give to somebody looking to become a videographer?
Never stop trying. It is really easy to get disillusioned as there is so much competition out there. We are continually accessing our methods and improving both our techniques and our kit. For someone new to the role, I would say, your showreel will make you stand out from the rest. If you don't have some work to show a potential employer or customer, you are much less likely to be considered. When you do have a showreel, update it regularly as your work gets better and share you work with the people you would like to work with.
3. What does the ideal shoot day look like?
One of the great parts of our job is that every day is totally different. On a shoot, we might be in a studio, in an office, at an event, indoors or outdoors and, a lot of the time, in a different country. The shoots themselves are all different too, sometimes we have a team of just 2, other times as many as 12.
Nick loves to film outside, at events like the RHS Flower shows in summer or on a racetrack or in a crane.
I love to film people, interviewing is my favourite thing to do so, any project where we can interview attendees at an event or customers on their experience with a particular brand or product. I also really love filming in Labs and hospitals.
4. What is one of your favourite video production projects of all time?
My all time favourite project was about 2 years ago, we were asked to film at the National Holocaust Museum. Several survivors told us their stories over the course of a day. They were amazing, I cried (silently) all day whilst listening to them, but it felt like an enormous privilege to be in the company of such amazing people.
Another was an event at Shrigley Hall, it was a fairly big crew with an aerial team too, I loved this one because it was so busy. We had a scripted presenter who we filmed in 8-10 locations. We got lots of shots of the event itself and the lovely surroundings and then interviewed lots of customers too. I think it was a 14hr day in the end and we were all tired at the end of it but it was really good fun.
5. Who is one of your biggest inspirations?
I don't think any of us have a specific person as an inspiration, but we do all see things we love from time to time and share them with each other so they can be used as inspiration for a future project.
6. Where would be your dream location to film?
That is different for all of us. For me, a beautiful private beach somewhere warm would be great. For Nick, it would be up a mountain somewhere cold probably. We are really lucky that we get to film all over the world and are regularly on a plane with a ton of camera kit in tow. We all love to travel and love the variety. One day can be a shoot in the North of England in an office, the next, we could be filming an evening event in a really fab restaurant in Germany.
7. Top tips to help a filming day run smoothly?
Planning, always. If we have a really good idea, the message and what the client would like to cover, we can then plan the shoot down to the very last detail. A lot of the work we do here is planning and making sure we know exactly what to expect before going to a shoot location. This can be a recce, storyboarding, shot lists, questions for those who are being filmed, props and also lots and lots of kit preparation and packing.
Scheduling is a huge help too, once we have a plan of what we'll be filming, we put together a call sheet with timings on it to make sure we allow enough time in the day to cover absolutely everything. Other practical advice, don't wear anything too patterned as this can look a bit odd on camera and layers are good too, if you have a suit jacket or something with pockets which we can put the microphone pack into that is a big help too.
8. What are some common challenges when filming live events and conferences?
Events and conferences are really good fun to film, they are always busy and there is plenty to cover. Usually when we film an event, we will ask some of the attendees to tell us what they thought of the event so that we can put those soundbites together in an 'overview' film. This can be challenging as most people are a bit camera shy. If we are able to, it really helps if the event organisers ask for volunteers for us ahead of time, this also saves lots of time running around looking for someone to talk to us!
9. In your opinion, what are the benefits of hiring a production company for small/start up businesses?
A well established production company is a safe pair of hands to work with. At Feral, we have worked on hundreds of different projects and between us we have over 25yrs experience. We have witnessed most of the challenges you can face on a shoot, and over time we've become experienced at overcoming them.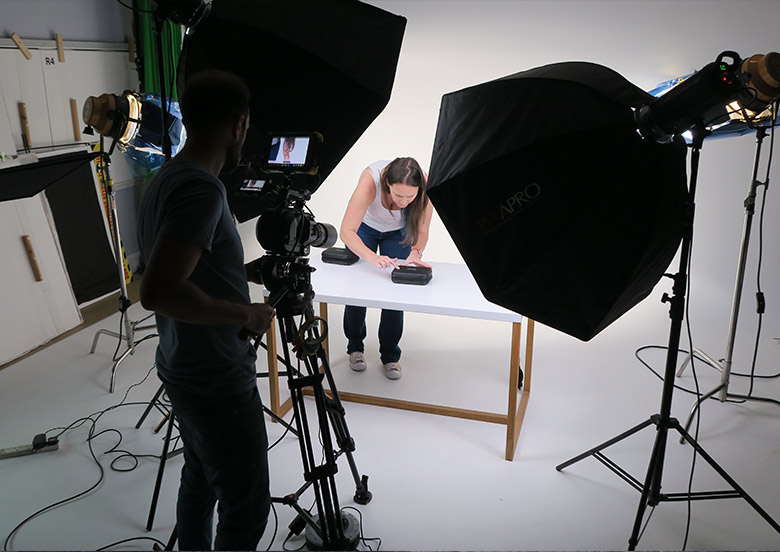 A good, well placed video can do amazing things for a new/startup business, particularly if you have an interesting product or service on offer. Something else our customers find of great use is customer testimonial videos. These are hugely popular and can drive lots of traffic to your website. Shorter video content is becoming increasingly popular and advertising on social media using video is far more likely to drive sales or brand awareness than still imagery or text only posts.
10. Can Barney come and visit us soon?
Yes, absolutely! Barney loves to visit new places and people!!
Big thanks to Feral Films Video production for the interview and we look forward to working with you in the future.