In May of 2016, Sami drove her pregnant friend and then housemate Imogen to the local hospital as she wasn't feeling great. This turned out to be the start of Imogen's labour and hours later, two very small premature babies were born. Identical twins Evie and Ella were in incubators until they were stronger, this included travelling over 170 miles whilst in incubators so they could be closer to home.
Just over a year later, in May of 2017 less than two weeks after her 1st birthday, Evie was diagnosed with Stage 4 Neuroblastoma cancer. Her mum, Imogen has since become a huge advocate for raising money in aid of relevant charities to Neuroblastoma and children's cancers.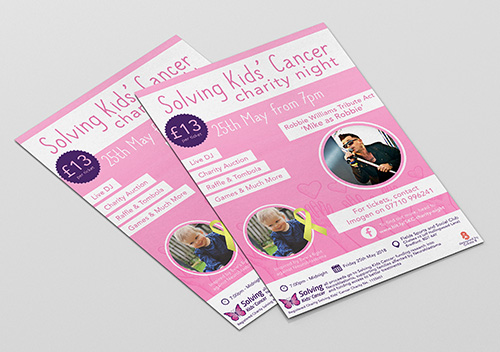 One of Imogen's fundraising events included in May of 2018, she organised a big charity and auction night for Solving Kids' Cancer. The event was to be ticketed and some personalised tickets would help the night stand out. The project was an easy one to accept for Sami who'd seen how Neuroblastoma had affected Imogen's family.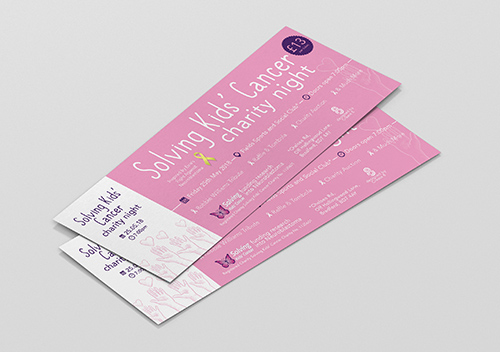 As well as the ticket design, we also created a poster for the event to match so that it could be promoted online. Taking the pink from the Solving Kids' Cancer's logo, Sami designed an eye catching ticket and poster for the charity/auction night, as well as organising the printing of the tickets for Imogen to keep track of attendees.
The night was a huge success and Imogen's hard work raised over £4,300 for Solving Kids' Cancer.
---
Find out more about Solving Kids' Cancer: